Julián Ríos Cantú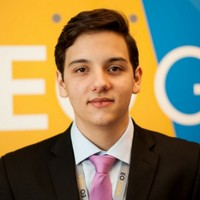 After his mother's painful two-time battle with breast cancer, Julián Ríos resolved to save women's lives through early breast cancer detection. Currently, he is the CEO and Co-founder of Eva (evacenter.com).

Eva is on a mission to eliminate death from breast cancer in LATAM and is fulfilling it through Eva Center, the first non-invasive, private, and accesible adjunct breast cancer screening experience powered by an FDA, CE Mark, and COFEPRIS cleared technology. In 2018 Eva was named one of the 30 most promising businesses by Forbes Magazine and in 2019 INC Magazine named Eva as one of the 50 companies changing the world.

Eva has raised more than $12M USD in venture capital from Y Combinator, KaszeK Ventures, Khosla VC, Hummingbird VC and form notable angel investors like Ashton Kutcher, Tony Robbins, Jessica Livingston, and Paul Buchheit.

Julián has been awarded with Mexico's Presidential Medal for Scientific and Technological Breakthroughs and the Global Student Entrepreneur Award by EO.