Dieter Willibold, Ph.D.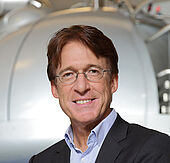 Dieter Willibold, Ph.D. is Professor at University Düsseldorf and Director of the Institute of the Biological Information Processing at Forschungszentrum Jülich

Dieter Willbold studied biochemistry in Tübingen (Germany), Bayreuth (Germany) and Boulder (Colorado, USA). He completed his Ph.D. in 1994 at the University of Bayreuth. After some more years in Bayreuth and a couple of research visits, e.g. at the Sackler School of Medicine of the Tel-Aviv University, in 1998 he was leading his independent junior research group at the Institute for Molecular Biotechnology in Jena, Germany.

In 2001 Willbold became an associate Professor at the Heinrich Heine University in Düsseldorf. Since 2004, he is full professor and chair of the Institute of Physical Biology in Düsseldorf and director of the Institute of Biological Information Processing at the Forschungszentrum Jülich.

His main interests are protein interactions with physiological and artificial ligands, high resolution structural biology, aging, neurodegeneration, neuropathic pain and autophagy.

""I think that many age related diseases, especially neurodegenerative diseases, are caused by prion or prion-like behaving etiologic agents. Because they form spontaneously but very rarely, age is the most important risk factor – besides genetic and environmental conditions that favor the formation of the first prion seed. Undoing aging therefore, relies decisively on the development of anti-prionic treatment strategies and anti-prionic compounds. I will introduce the first anti-prionic compound that is already in clinical development"", says Dr. Dieter Willibold.

Dieter was a speaker at the 2020 Undoing Aging Conference event.