Henrique Almeida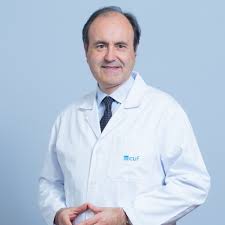 Henrique Manuel Nunes de Almeida graduated in Medicine in 1984 at the Faculty of Medicine of the University of Porto, Portugal. He became specialist in Obstetrics & Gynecology in 1995. In 1999 he obtained the PhD degree in Medicine, area Cell and Molecular Biology, with a study on the effects of ageing on the Inner zone of the adrenal cortex.

Currently, he is Associate Professor of Cell and Molecular Biology at the Faculty of Medicine of Porto University. There, and at IBMC - Instituto de Biologia Molecular e Celular of Porto University, he leads a group involved in the study of Stress and Ageing in Reproduction and is member of scientific committees of Master and PhD programmes in Molecular Medicine and Oncology.

He is member of the Editorial Board of the journal Microscopy and Microanalysis as representative of the Portuguese Society for Microscopy. He maintains clinical activities in Obstetrics and Gynecology at CUF Hospital, Porto, Portugal. Due to his qualification in basic and clinical science of Obstetrics & Gynecology, he is a collaborator of the fertility centre "Centro de Estudo e Tratamento de Infertilidade, CETI" in Porto, Portugal.