Aisling Burnand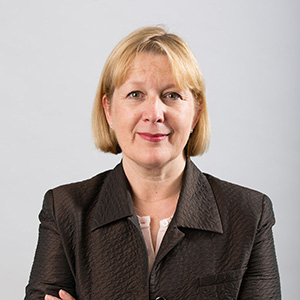 Aisling Burnand has been the chief executive of the AMRC since September 2014.
Aisling began her career in communications, working mostly in the private sector. She headed international media relations for Rhône-Poulenc and was a director at the Rowland Company. She joined the BioIndustry Association (BIA) as its first director of public affairs in 1998, before becoming chief executive in 2003. At the BIA she championed UK biosciences, leading on issues including regenerative medicine and animals in research. In 2007 Aisling received an MBE for services to science.
In 2009 Aisling joined Cancer Research UK, where she was executive director of policy and public affairs. During her tenure the charity secured the implementation of point of sale legislation preventing children from viewing cigarettes in shops, and the Sunbeds Act to protect young people from the dangers of sunbeds.
Since 2012 Aisling has run DNA Coaching providing support for senior leaders in business and the not for profit sector.
She is a Trustee of LifeArc, has been a Trustee of Campaign for the Advancement of Science and Engineering (CaSE) (2011- 2017) and is currently a member of: the UK Clinical Research Collaborative (UKCRC), Research Advisory Group to NHS Digital, OSCHR Sub board on BioInformatics, Life Science Industry Strategy Board, Brexit Health Alliance, and the Brain Tumour Charity Patient Mandate group.
In 2007 Aisling received an MBE for services to science.