Bruce Ames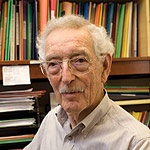 Ames, raised in New York City, is a graduate of the Bronx High School of Science. His undergraduate studies were at Cornell University in Ithaca, New York, and his graduate studies were completed at the California Institute of Technology.

Ames was elected a Fellow of the American Academy of Arts and Sciences in 1970.

He is a recipient of the Bolton S. Corson Medal in 1980, Tyler Prize for Environmental Achievement in 1985, the Japan Prize in 1997, the National Medal of Science in 1998 and the Thomas Hunt Morgan Medal in 2004, among many others.

His research focuses on cancer and aging and he has authored over 550 scientific publications. He is among the few hundred most-cited scientists in all fields.

Ames' current research includes identifying agents that delay the mitochondrial decay of aging, understanding the role of mitochondrial decay in aging, particularly in the brain, optimizing micronutrient intakes in the population to prevent disease, malnutrition, and obesity. He is also interested in mutagens as they relate to cancer prevention and aging.

Dr. Ames received more than $650,000 in support from the National Foundation for Cancer Research between 1998 and 2007.